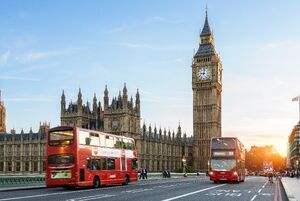 London is the capital and most populous city of England and the United Kingdom. Standing on the River Thames in the south east of the island of Great Britain, London has been a major settlement for two millennia.
History
[
]
In 1996, Ethan Hunt arranges with Max to exchange the list aboard the TGV train from London to Paris the next day. On the train, Hunt remotely directs Max to the list. Max verifies it and gives Hunt the code to a briefcase containing the payment along with Job in the baggage car. Ethan calls Claire and tells her to meet him there. Meanwhile, Stickell uses a jamming device to prevent Max from uploading the data to her servers. When Claire reaches the baggage car, she finds Phelps, and tells him Ethan will arrive shortly. She questions the idea of killing Ethan, since they'll need a fall guy for the money. To Claire's surprise, Phelps reveals himself to be Ethan in disguise, exposing her as a co-conspirator. Moments later, the real Phelps arrives and takes the money at gunpoint. Hunt dons a pair of video glasses that reveals Phelps' existence to Kittridge, proving that Phelps is the mole.
With his cover blown, Phelps tries to kill Ethan. Claire intervenes and Phelps kills her. He climbs to the roof of the train, where Krieger is waiting with a helicopter and a tether. Hunt stops Phelps from escaping and connects the tether to the train itself, forcing Krieger to pilot the helicopter into the Channel Tunnel after the train. Hunt places an explosive chewing gum on the helicopter windshield, killing Krieger and Phelps.
Appearances
[
]